Questions & Answers
How safe is it?
The safest conditions are those issued by The Royal College of Surgeons (RCS) whose guidance says treatments should only be carried out on licensed premises with resuscitation equipment available in case of an emergency. The RCS also recommends that only doctors, dentists or registered nurses who have undergone the appropriate training should be allowed to perform the treatments.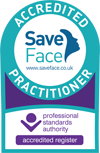 Dr Downey completed training in 2013 for Botulinum Toxin & Dermal Fillers with Cosmetic Courses run by Adrian Richards - one of the UK's leading plastic surgeons.
Dr Downey is an Accredited Save Face Practitioner .
---
How does it Work?
By using facial muscles repeatedly throughout a lifetime, the skin is creased in areas of greatest use. The aging process causes the slowdown of collagen and elastin production in the skin so these areas of over-use become damaged and the lines become permanent. By reducing the movement of muscles in these areas, the skin stops being creased and is allowed to recover, causing the lines to soften or even fade away.
In the areas treated, the muscles are temporarily inactivated (always reversible), during which time the patient can break the subconscious habit of overusing these muscles. Depending on each individual and the dose used, the response to treatment can vary from a relaxation of the muscles to an inability to move the muscles. For the first couple of years, treatments about every 4 months are required to re-educate the facial muscles. Thereafter, treatments would be less frequent until a yearly maintenance treatment may be all that is required.
---
What happens during treatment?
The procedure takes about 10 to 20 minutes. We will ask you to use certain muscles of the face to observe how they work. The area may have some slight redness and swelling, which normally resolves in an hour or two. After treatment, you should not massage the area. You should not lie down for four hours after treatment.
---
Is it painful?
Occasionally patients may experience very slight discomfort. Local anaesthetic is not normally required.
---
How long does it last?
The treatment normally starts to take effect after 4 to 14 days, but this may vary slightly. The effect will normally last between 2 and 6 months, when you will start to notice an ability to move the muscles more freely.
---
What are the Side effects?
Side effects of these treatments are rare. Some patients report very mild discomfort, and there may be mild swelling, which usually subsides in 48 hours. Patients treated with therapeutic doses can experience exaggerated muscle weakness and occasionally a temporary drooping of the eyelid can occur. This may last a few weeks but will always resolve. Special eye drops can be prescribed to help lift the lid back into position. In extremely rare cases, patients have developed an allergy to the treatment. While others have shown resistance, ie it caused little or no effect.
---
Treatment Fees
We provide a Free initial consultation prior to any facial aesthetics treatment.
If you proceed, the cost depends upon the number of areas being treated - please see our fees table.
---
More information
For further independent facial aesthetics information, visit saveface.co.uk .
---